Made With 100% Grass-Fed Australian and New Zealand Beef Marrow Bones
Synbiotic Bone Broth is made with beef marrow bones from small farms across Australia and New Zealand. The bones are simmered for 18+ hours using our signature simmering process to extract the maximum amount of healing nutrients.
Supports Improved Digestion and Nutrient Absorption
Synbiotic Bone Broth is low in calories but high in protein. This helps your body stay fuller for much longer. It also contains high levels of valuable amino acids. These amino acids support speeding up your body's metabolism.
Improves Skin Health, Skin Hydration and Reduces Fine Lines
The collagen in the Synbiotic Bone broth helps to promote youthful skin and improve elasticity. Nutrients found in bone broth can help to support healthy bones, joints, and muscles, and help you feel more like YOU again.
Natural Ingredients Featured In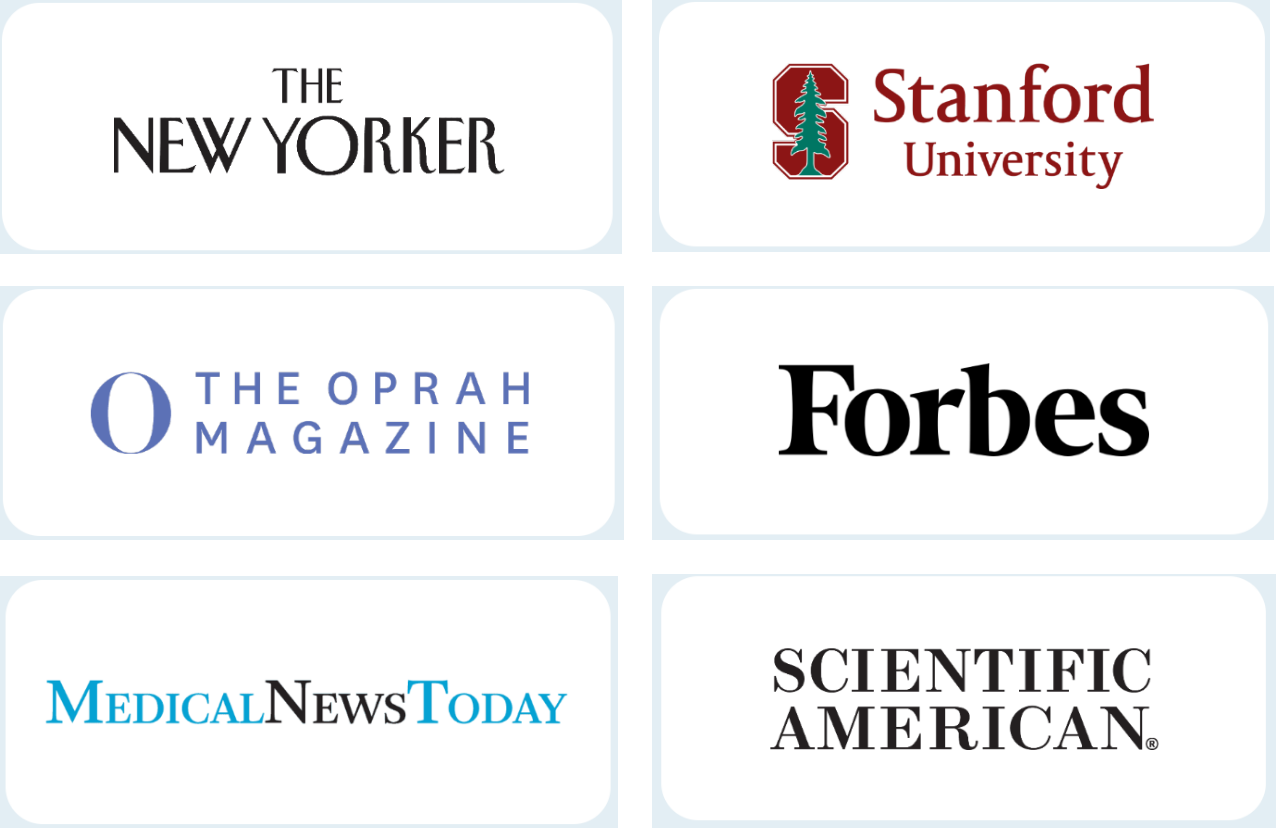 Before And After Stories Directly From Our Customers
This product has helped my bloating and also has improved my sinus congestion. I have suffered from these conditions for years and nothing has helped like your bone broth. I will certainly continue with it. Thanks.
I love my bone broth - I use it to make wonderful warming soup. Real comfort food, and great for my digestion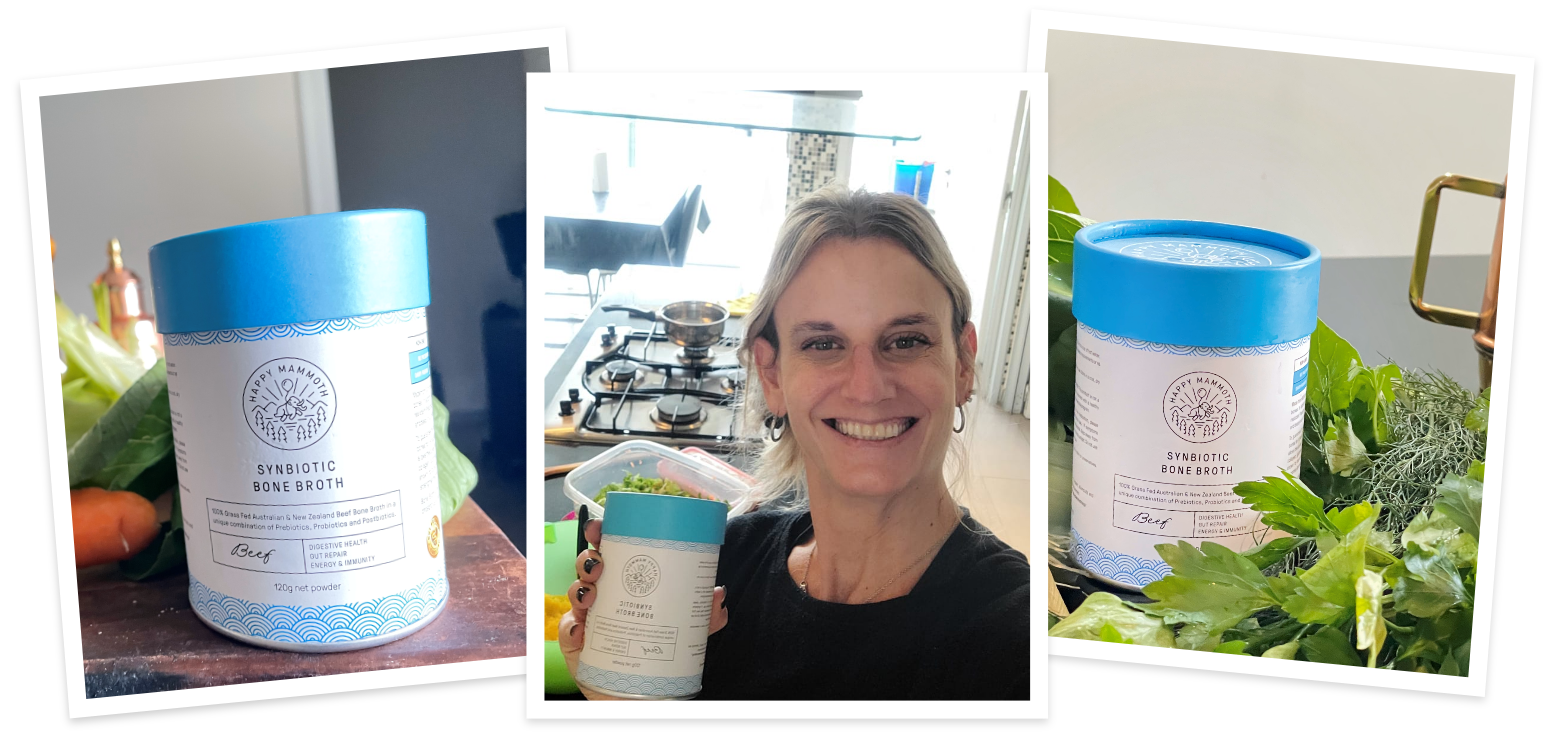 Beautiful, soothing Organic Bone Broth
I drank this after my hip replacement and found it to be highly soothing. It has a beautiful taste. It is by far the best bone broth on the market! I regularly recommend it to my friends.
Since having the bone broth, I have been feeling so much better! I feel less bloated, better nails and I feel it has helped my Hashimoto disease.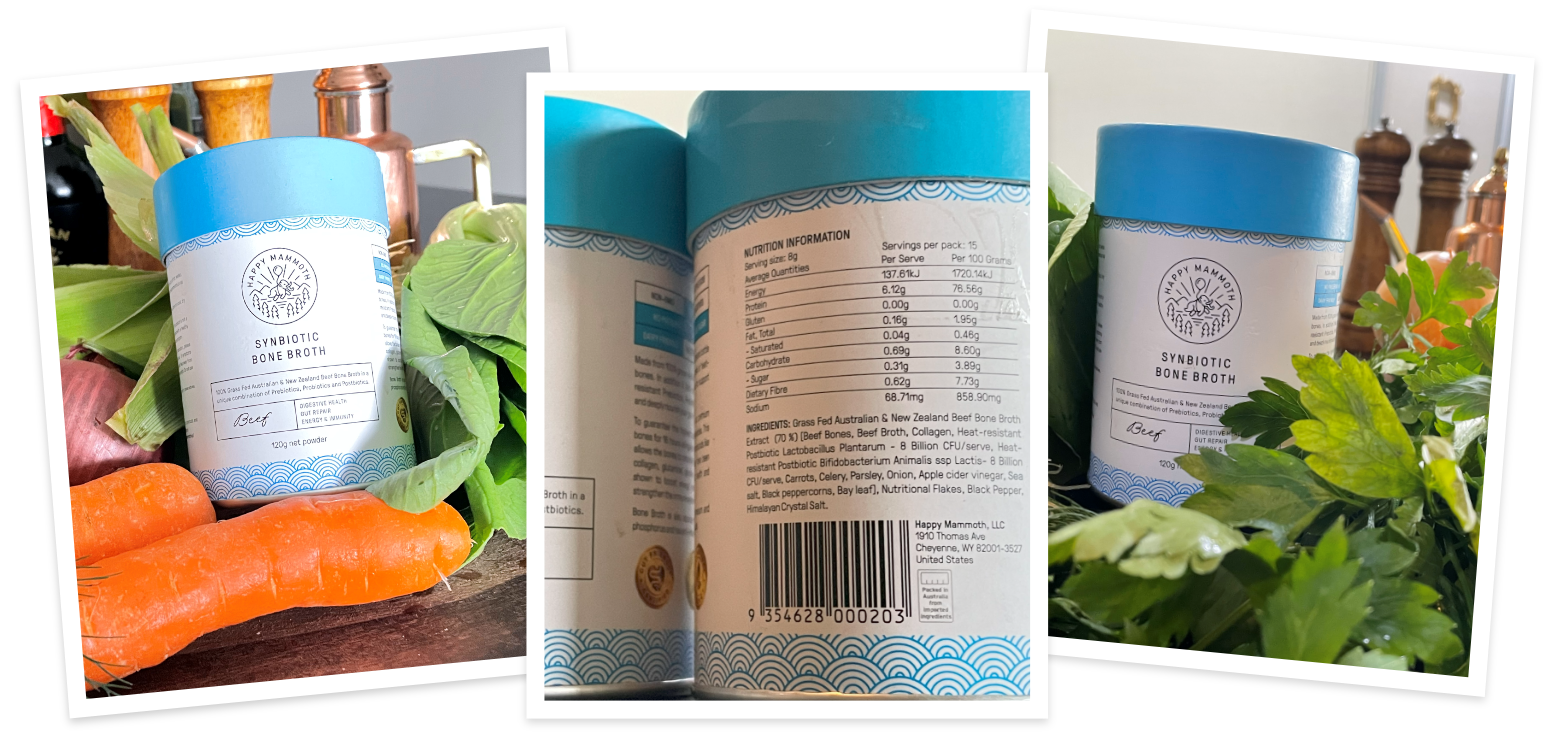 Easy packet, gentle on the stomach and tastes great!
The Bone Broth is an essential staple in all my stews and slow cooking recipes.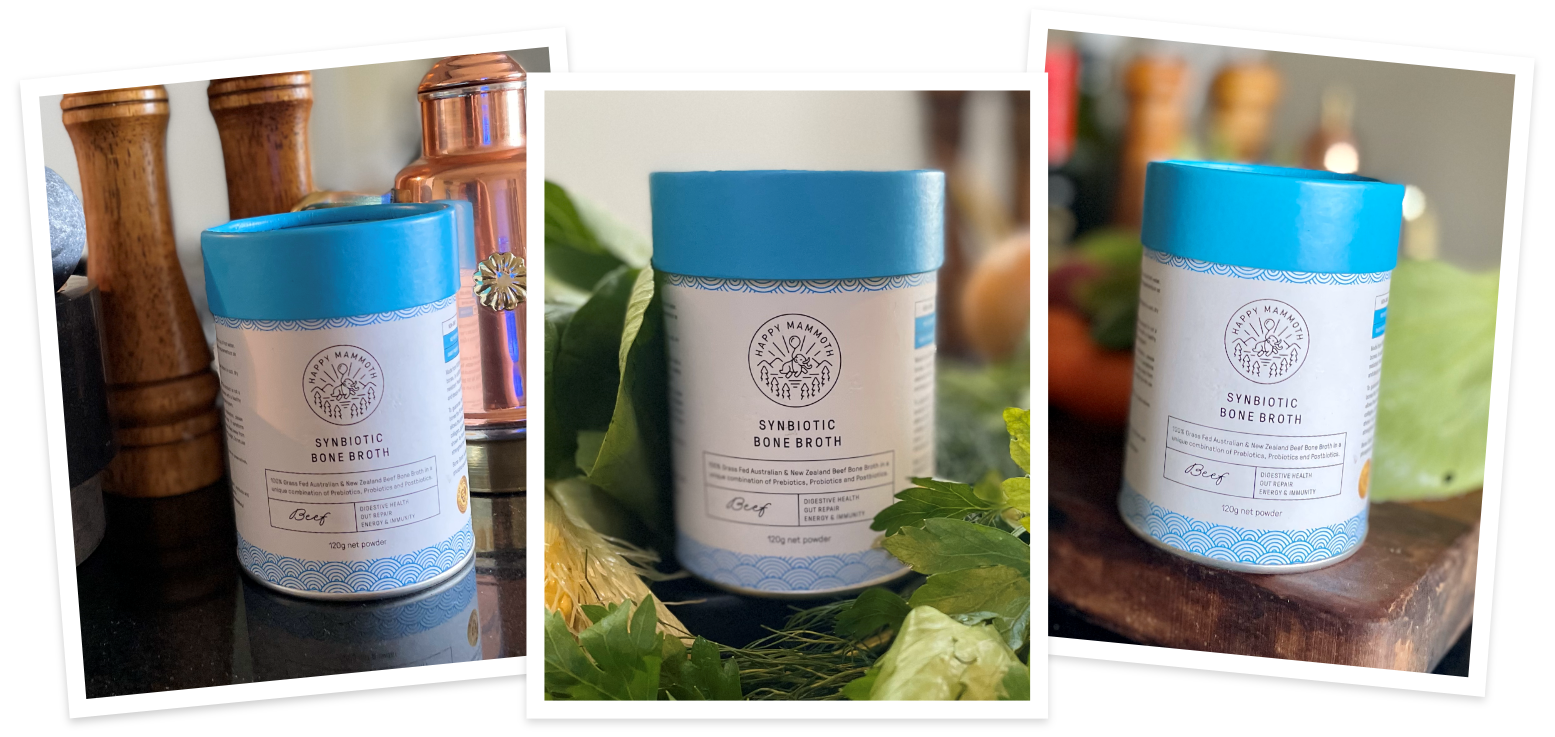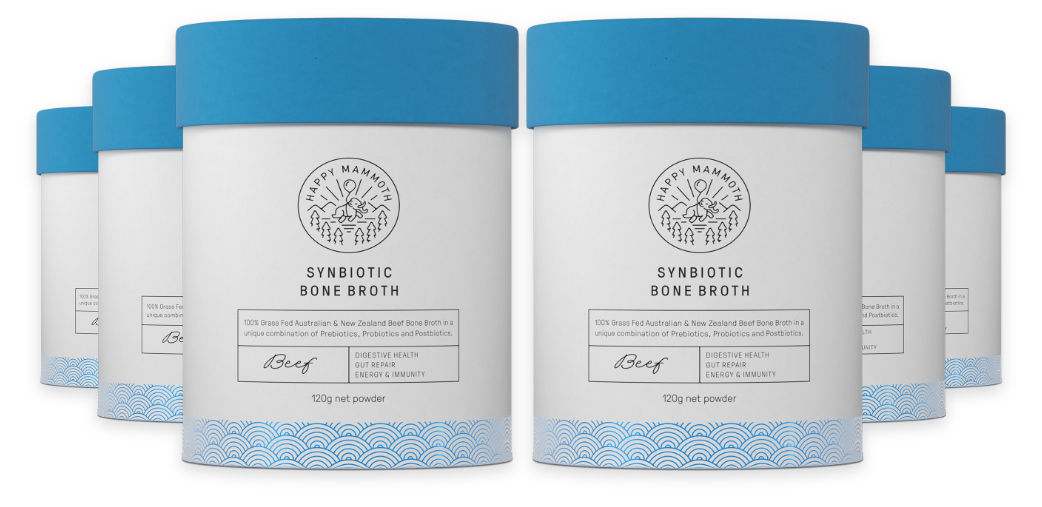 What Is Does & How It Does It
Our Synbiotic Bone Broth Powder supports joint health and lasting gut healing while also improving overall digestion and full body wellbeing.
Our bone broth is a rich source of minerals and amino acids which promote healthy hair, skin, and nails. These minerals also improve joint health and energy levels - all resulting in natural anti-ageing that can help you look and feel years younger.

Happy Mammoth's Synbiotic Bone Broth Powder is made from the marrow bones of 100% grass-fed, raised cattle from small Australian farms.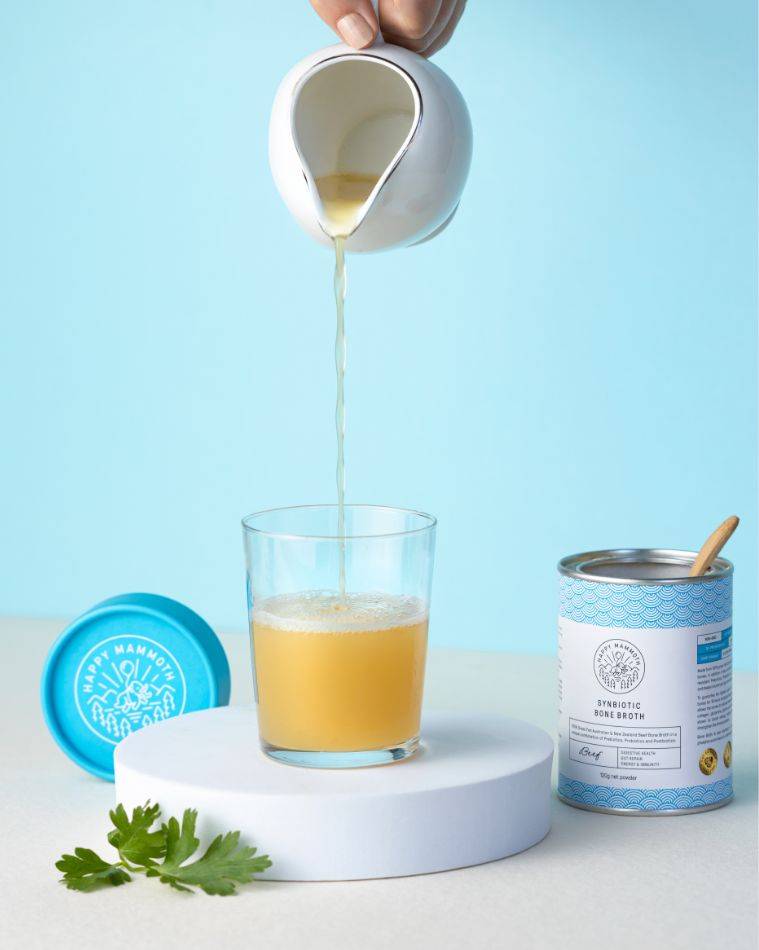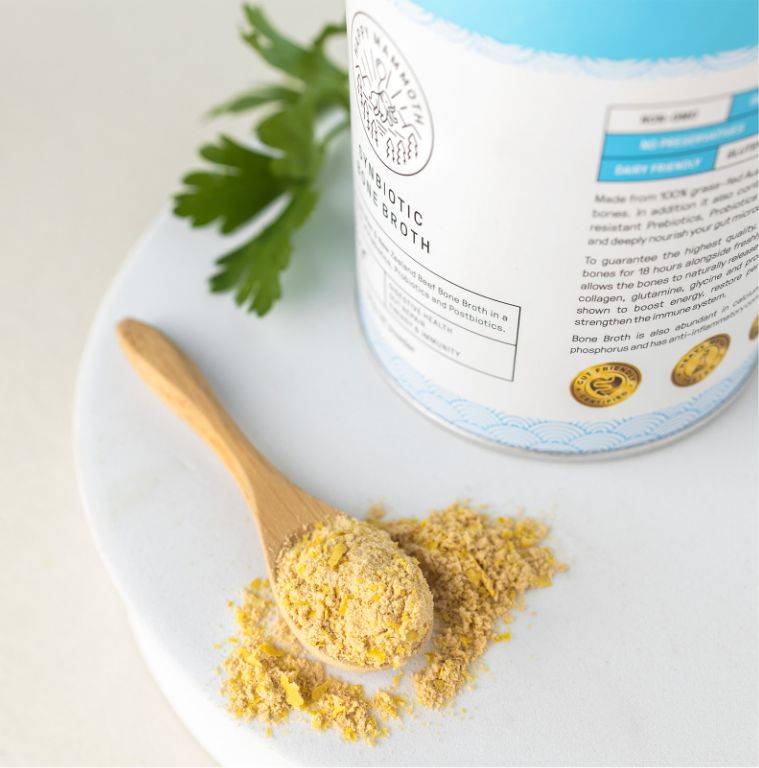 We Make Bone Broth The Traditional Way So You Don't Have To
We allow our premium bones to simmer for 18 hours with fresh organic vegetables with an added 8 Billion CFU per serve of beneficial Probiotics to improve the immune system and increase nutrient absorption.
Our signature 18-hour simmering process causes the bones and ligaments to release healing compounds like Collagen, Proline, and Glycine.
What Makes Synbiotic Bone Broth So Beneficial To Your Health?
So much of our health and wellness is based on what is going on in the gut. Bad diet, poor sleep, inactivity, and alcohol consumption are all leading factors of gut damage.
Incorporating Synbiotic Bone Broth into your diet can protect your total health. It also provides the immune system with a natural boost.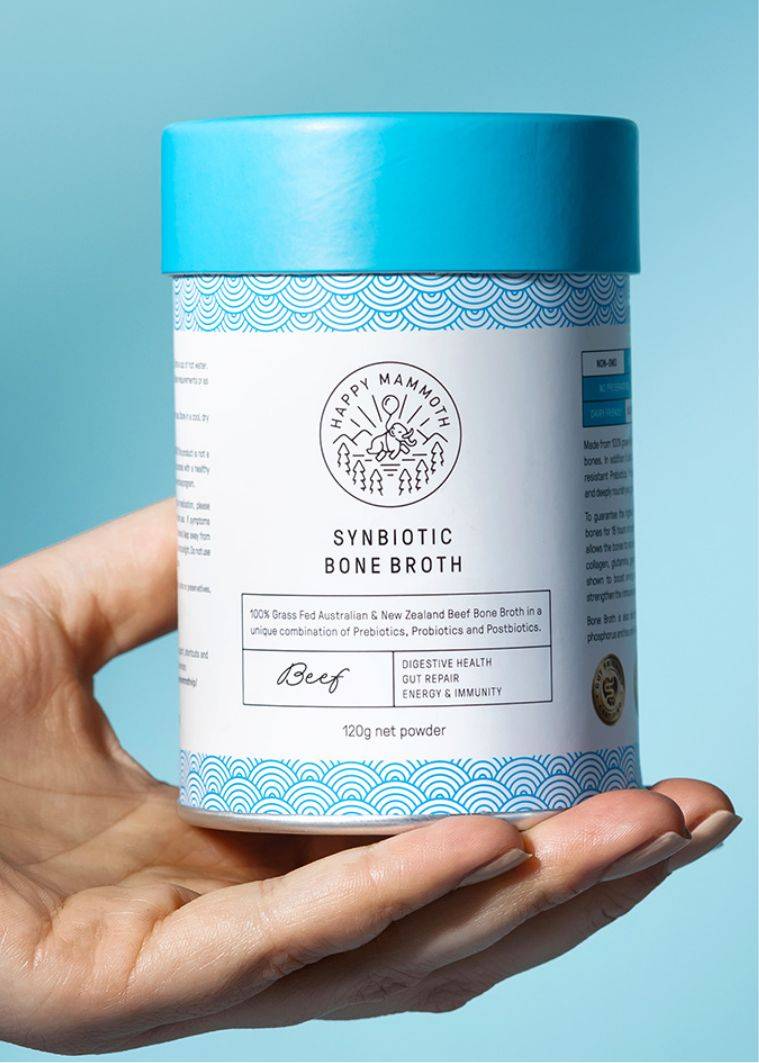 Use as a midafternoon pick-me-up instead of a sugary snack
Enjoy before exercise for an extra pep in your step
Add as a soothing bedtime sleepy drink
Substitute for water in pasta & rice dishes to boost flavor and nutrition
Make a bone broth-based gravy to pour over your favorite dishes
Sip it first thing in the morning to kickstart your day
Incorporate Synbiotic Bone Broth Into Your Favorite Meals (Or Create New Ones…)
From the fresh shrimp to the crunchy fennel, this one-pot meal is bursting with Mediterranean flavor and offers the healthful boost of nutrients thanks to the Symbiotic Bone Broth.
4 cups of Symbiotic Bone Broth
½ kilogram of fresh (or thawed) deveined shrimp
Fennel bulb
1 lemon
½ kilogram of orzo pasta
½ cup of water
Tablespoon of olive oil
Kosher salt & black pepper to taste
Dice fennel bulb to make about 1 cup and reserve the fronds.
Zest the lemon, and keep the remaining lemon for later.
Combine fennel, orzo, olive oil, pinch of salt and pepper, bone broth and water into a skillet or dutch oven.
Bring to boil and stir frequently for 8 minutes.
Add shrimp and lemon zest and continue to cook until orzo is al dente and shrimp is opaque. (Approximately 2 minutes more)
Squeeze remaining lemon onto the dish and stir to combine.
Plate and serve with fennel fronds as garnish.
This comforting soup will warm up even the coldest days with it's delightful combination of flavours including ginger, soy sauce and scallions. Plus, the Symbiotic Bone Broth serves the perfect immune-boosting setting for a poached egg.
6 cups Symbiotic Bone Broth
1 tablespoon toasted Asian sesame oil
Fresh ginger bulb
2 cloves of garlic
2 tablespoons of soy sauce
30mL trimmed bok choy
4 eggs
Your choice of garnish (scallions or furikake)
Heat sesame oil in a wide pot until simmering and add 5 thick slices of ginger and sliced garlic. Stir until garlic is browned around the edges (1 minute)
Add Symbiotic Bone Broth and soy sauce then bring to a boil
Add bok choy and stir to combine. Lower temperature to a simmer.
Crack eggs into soup and try to keep them apart from eachother. Allow them to cook undisturbed until whites are fully set but yolk is runny. (3-4 minutes)
Serve immediately with garnish
This paleo-friendly soup is the perfect mix of healthy and delicious. This nourishing meal includes a rich blend of coconut milk, cauliflower, and garlic to enhance the natural flavour of the Symbiotic Bone Broth.
1.5 cups of Symbiotic Bone Broth
Head of cauliflower - broken into florets
2 tablespoons of ghee (or butter)
Kosher salt & black pepper to taste
Shredded cheese for garnish
In large pot, cover cauliflower florets with water and bring to a boil. Reduce heat and simmer until florets are tender (12-15 minutes)
Drain the pot and put the cauliflower in a food processor along with ½ the Symbiotic Bone Broth and ghee. Blend well. Add the other half of the
Symbiotic Bone Broth and blend again. Add salt & pepper to taste then top with cheese.
Start every morning off on the right foot with this innovative latte. The nourishing benefits of the Symbiotic Bone Broth plus the natural comforts of a breakfast latte make this an easy, healthy choice to begin the day.
2 cups Symbiotic Bone Broth
¼ teaspoon ground turmeric
½ teaspoon rosemary
1½ tablespoons of ghee (or butter)
Kosher salt & black pepper to taste
Bring the Symbiotic Bone Broth to a simmer in a saucepan.
Add turmeric, rosemary, salt & pepper
Remove from heat and pour into the blender along with ghee.
Blend until frothy and serve. (30 seconds)
Frequently Asked Questions
What type of collagen is in Beef Bone Broth?
The collagen peptides in Synbiotic Bone Broth are mostly made up of Type III collagen.
Is Beef Bone Broth grass fed?
100% Grass-fed beef bones from pasture fed Australian and New Zealand cattle.
Yes, Synbiotic Bone Broth is completely gluten-friendly.
Mix one serving (8g) into a cup of hot water. Enjoy as needed depending on your daily requirements or as recommended by a healthcare professional.
What is the best time of the day to take this product?
You can take this product at your preferred time of the day.
What are the ingredients in the formula?
Grass Fed Australian & New Zealand Beef Bone Broth Extract (70%)
Heat-resistant Postbiotic Lactobacillus Plantarum - 8 Billion CFU/serve

Heat-resistant Postbiotic Bifidobacterium Animalis ssp Lactis- 8 Billion CFU/serve
Can I use this supplement if I am pregnant or breastfeeding?
Although all of our products are natural supplements, we always recommend speaking with your healthcare professional beforehand. As we're not doctors, we're unable to make recommendations while trying to conceive, during pregnancy or while breastfeeding.
Can it be used by children?
While all of our products are made of natural ingredients, you should always consult with a healthcare professional before giving it to children under the age of 18.
Where should I store the product?
It's best to store this product in a cool, dry place to enjoy all its benefits.
Are there any side effects?
Our health supplements have been designed by experts who ensured every product is safe and gentle with your body. However, in very rare cases, some people experience unpredictable reactions. Please, always consult with your doctor if you experience any adverse effects or allergic reaction.
How many servings are in one package?
Our Synbiotic Bone Broth includes 15 servings per pack.
Why choose this product over others?
Our Synbiotic Bone Broth has been carefully designed by health specialists to promote gut healing & optimal digestive function with no additives and no harmful side effects.
Medical information, product, reviews, warnings and legal disclaimer
At Happy Mammoth, we have NO compromise when it comes to quality, safety and transparency. That's why we check that the information on our website is valid, accurate and substantiated by scientific research and clinical evidence. We avoid statements on our website that are misleading or exaggerate efficacy or performance.
To ensure the integrity of testimonials appearing on our website, we also:

- check that the person providing any testimonial is a customer and has used the good for its intended purpose
- check that the person has no connection or involvement with Happy Mammoth, including any production, sale, supply or marketing of our products
- do not give any inducement or direction in how the testimonial is written or published (other than to ensure the integrity of Happy Mammoth and our website, including consistency with the intended use of our products or our instructions for use).
Despite our efforts, please note that:
- testimonials are based on personal experiences only and do not necessarily represent what anyone else using the same product may experience - your individual results may vary.
- we are not responsible for any errors or any use of information on our website, including testimonials
- you should also not treat any information on our website as medical advice or as statements evaluated by the Food and Drug Administration, the Therapeutic Goods Administration or any other regulatory authority
- you should not regard our products as being intended to diagnose, treat, cure or prevent any disease.
If you are or you believe you are suffering from any medical condition, please seek advice from a qualified healthcare professional regarding your treatment before taking any of our products. If you notice any unexpected change to any aspect of your health, please seek help from a qualified healthcare professional immediately.

If you believe that any of our communications can be confusing or biased, feel free to contact us via email: support@happymammoth.co