Product Highlights
Ultra high-potency doses based on real scientific data
30 billion gut-healing bacteria (probiotic) per serving
Goes through a 9-step quality control process to guarantee the highest purity
A natural subtle and pleasant flavour
90-day money-back guarantee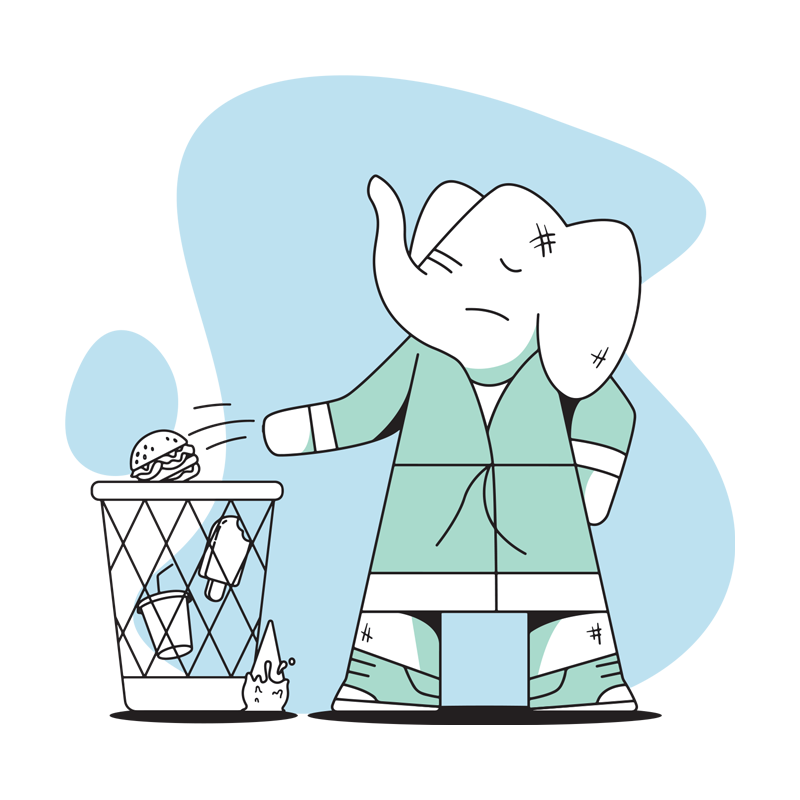 Helps Keep Inflammation
Under Control
The Sulforaphane in broccoli sprouts can boost the antioxidant capacity of cells through the promotion of phase 2 enzymes. These enzymes are antioxidant proteins that protect against oxidative damage triggered by injury and inflammation.
Promotes a Healthy Increase in
Energy Levels
Probiotic Power Greens has high levels of L-theanine, an amino acid that promotes a state of calm energy and wellbeing. When paired with an antioxidant called catechins, it's been proven to enhance cognitive power and protect the liver from damage.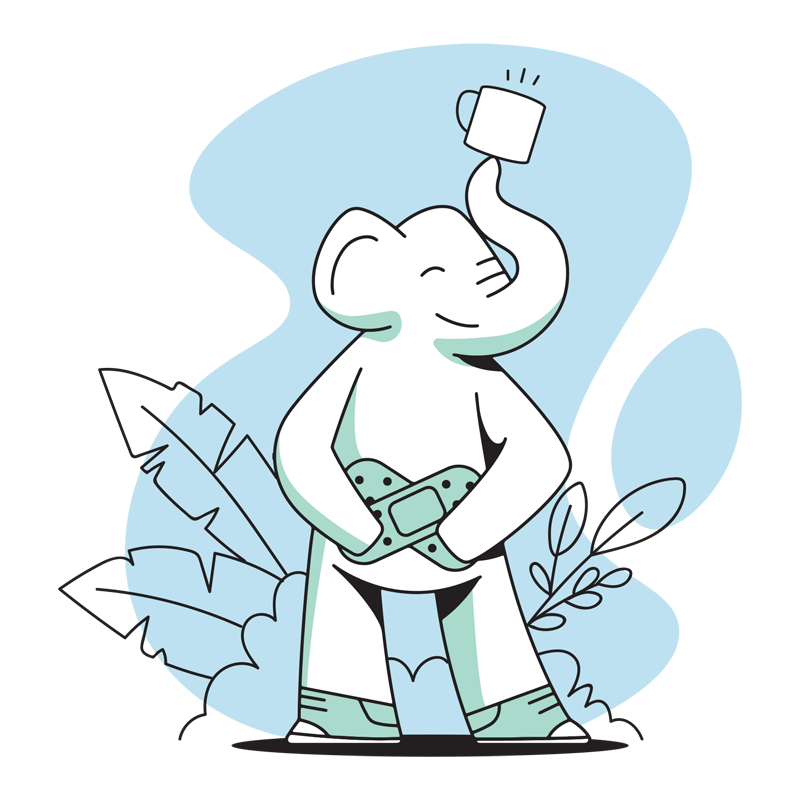 Helps Overcome Dangerous Nutritional Deficiencies
The formula contains a broad spectrum of beneficial vitamins, minerals, phytonutrients, probiotics and antioxidants. This unique nutritional blend helps prevent and even overcome both nutritional and gut deficiencies that can seriously affect overall health.
Before and After Stories Directly From Our Customers
The Health Benefits of Probiotic Power Greens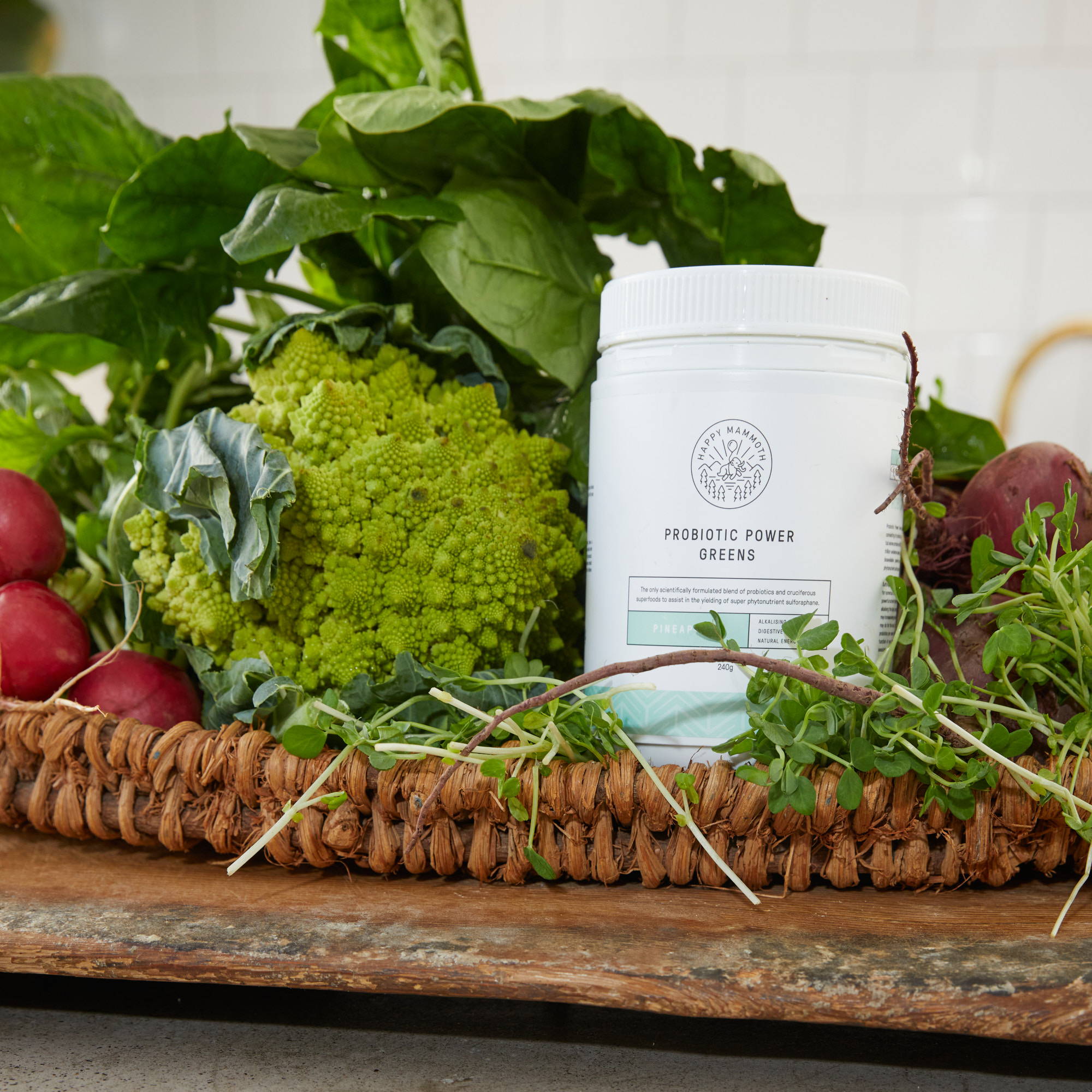 What It Does and How It Does It
Our organic Probiotic Power Greens is the scientifically-formulated blend consisting of probiotics, antioxidants and cruciferous superfoods. Together, these bioavailable ingredients assist in the yielding of essential nutrients and the super phytonutrient Sulforaphane.
The intense concentration of probiotics, phytonutrients and antioxidants may assist in overcoming nutritional and digestive deficiencies, boosting daily energy levels, lowering systemic inflammation and turbocharging your body's ability to burn fat.
The cruciferous vegetables found in Probiotic Power Greens are certified organic and naturally cold-pressed. This advanced processing technique ensures that ALL nutritional value is retained in the powder and is what gives the powder its vivid green colour.
Why Are Phytonutrients Critical In Promoting Good Health And Preventing
Damage At A Cellular Level?

Scientists have found that phytonutrients prevent and relieve a variety of diseases in humans.
More importantly, there is scientific evidence to suggest that these nutrients play a crucial role in the prevention of chronic and degenerative disease. Phytonutrients can also lower cholesterol, reduce blood pressure, detoxify the blood, boost the immune system and relieve allergies.
However:
We all live exceedingly busy and stressful lifestyles that prevent us from regularly preparing healthy and fresh meals containing cruciferous vegetables. Even when we do have the time, it's almost impossible to cover all nutritional bases.
The major problem is that just one single nutritional deficiency can have negative consequences on your health, vitality, physical appearance and general wellbeing. And that's exactly why we've created this unique blend of highly bioavailable super phytonutrients that cover all the body needs on a daily basis.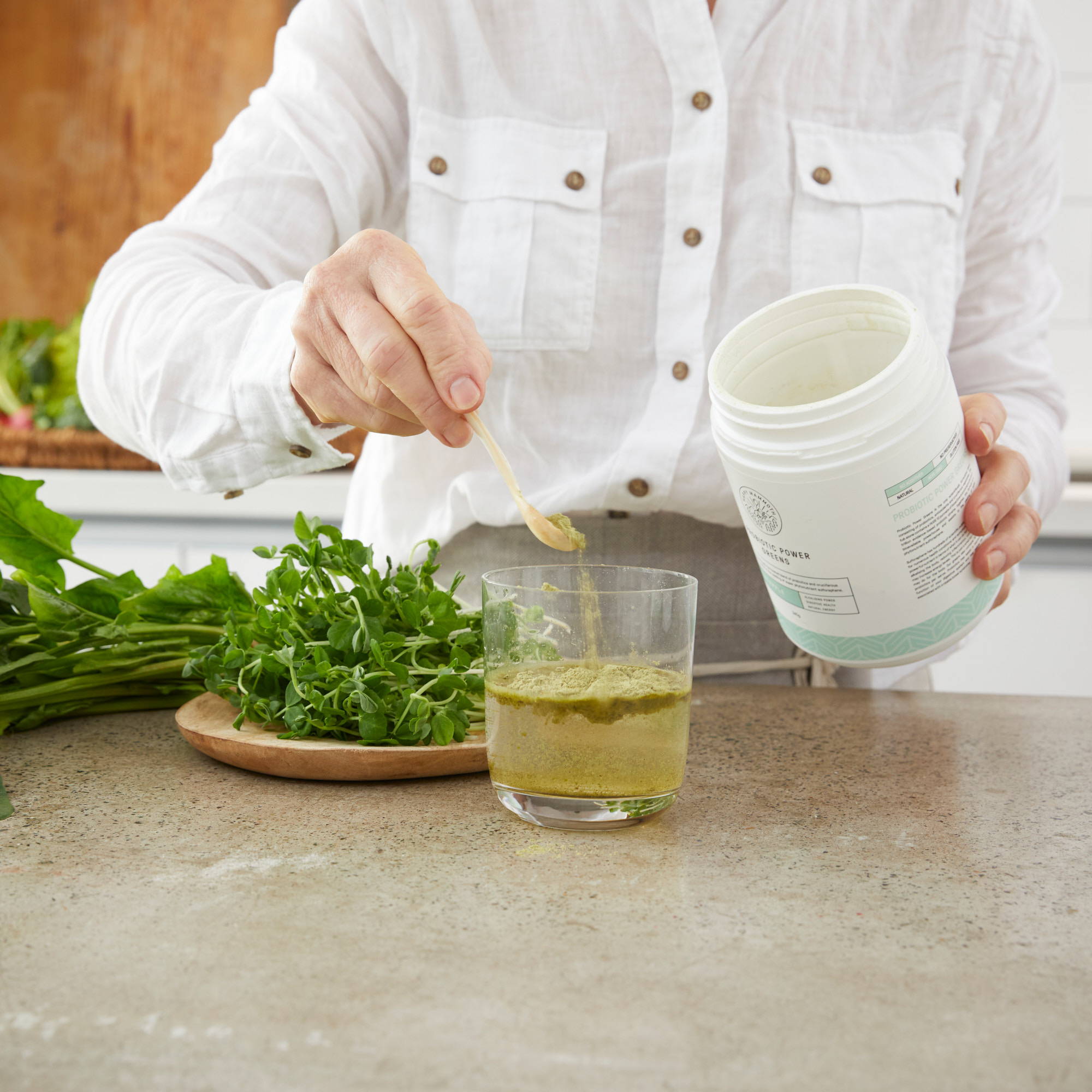 * Easy to understand summarised scientific studies *
The Science Behind the Ingredients in Probiotic Power Greens
Broccoli sprouts are abundant in important vitamins, minerals and nutrients including: Gallic, chlorogenic, ferulic, sinapinic, benzoic and salicylic acids, quercetin, kaempferol, dietary fiber, pantothenic acid, vitamin B6, vitamin E, manganese, phosphorus, choline, vitamin B1, vitamin A (in the form of carotenoids), potassium and copper.
With 137x more antioxidants than green tea, Matcha is high in L-theanine, an important amino acid found in tea that promotes a state of deep relaxation and well-being. Studies suggest that L-theanine may also have antibacterial benefits and help enhance cognitive power.
Broccoli sprouts also contain large amounts of disease-fighting and anti-aging phytonutrients: Sulforaphane, myrosinase, glucosinolates, dithiolethiones, indoles, glucoraphanin, s-methyl cysteine sulfoxide, isothiocyanates and indole-3-carbinol.
Matcha's bright green colour comes from its high level of chlorophyll. Studies have linked a higher chlorophyll consumption with lower rates of aflatoxin-associated liver cancer, which means that consuming this green could protect the liver from damage.
Alfalfa sprouts can help women minimize symptoms related to menopause and menstruation. Rich in Vitamin K, a blood-clotting vitamin, it can help reduce excessive bleeding. The combination of vitamin K and phytoestrogens also has an effect on regulating estrogen.
Matcha contains a special class of antioxidants known as catechins. More specifically, the catechin epigallocatechin gallate (EGCg) has anti-tumor properties. Studies have also indicated that matcha green tea contained at least 3 times as much EGCg as other green teas.
Alfalfa sprouts are an extensively studied high-antioxidant food, which helps protect cells from damage caused by free radicals. Antioxidants promote better health and could help prevent a number of diseases and illnesses, many of which come with serious health complications that can be avoided.
Kale's nutrient richness stands out in three particular areas: (1) antioxidant nutrients, (2) anti-inflammatory nutrients, and (3) anti-cancer nutrients in the form of glucosinolates. Without sufficient intake of antioxidants, oxygen metabolism can become compromised, and the body can experience a metabolic problem called "oxidative stress."
Pioneering World-Leading Quality Standards & Testing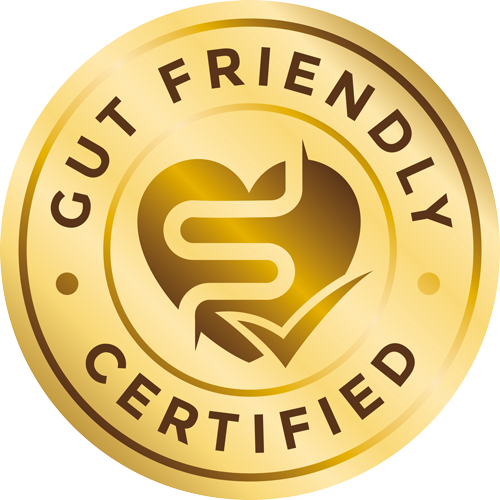 ---
Know with absolute confidence that Priobiotic Power Greens is free from the established 69 known gut irritants.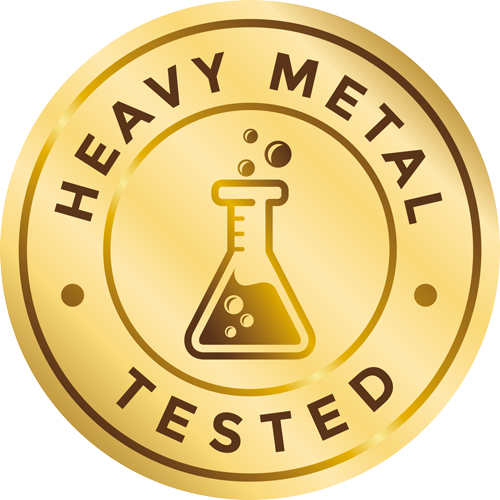 ---
Know with absolute confidence all ingredients have been examined for Heavy Metals using world class testing methods.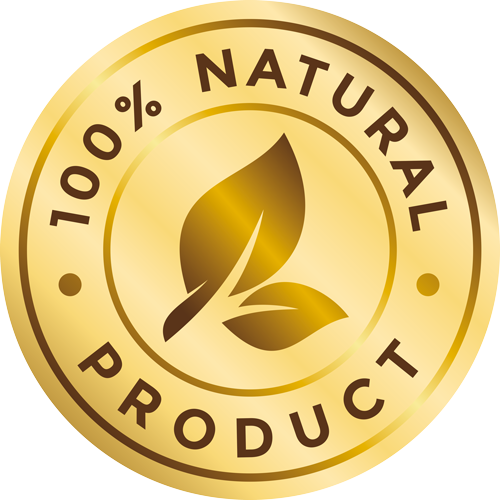 ---
Free from artificial fillers, preservatives, artificial sweeteners, binding agents and other additives your body doesn't need...
Frequently Asked Questions
How do I use this product?
We recommend 1 scoop first thing in the morning to help increase satiety and stop sugar cravings. You can mix it with your smoothies, coconut, almond milk or a glass of filtered water at your preferred time of the day or when you need deep concentration power.

You can also use it prior to exercise, for extra energy and performance, after exercise to combat oxidative stress, or whilst recovering from sports injuries.

What are the ingredients in this formula?
Probiotic Power Greens contains Australian Grown Broccoli Sprout Powder, Certified Organic Matcha Powder, Probiotic Power Blend (30 billion CFU/g) (Lactobacillus acidophilus, Lactobacillus plantarum and Lactobacillus rhamnosus), Certified Organic Kale Powder, Certified Organic Alfalfa Sprout Powder, Natural Pineapple Flavour, Natural Vanilla Flavour and Natural Stevia Leaf Extract.
All the ingredients have been chosen for their intense concentration of probiotics, phytonutrients and antioxidants, plus the bioavailable super phytonutrient Sulforaphane found in broccoli sprouts.

Where is the formula produced?
Probiotic Power Greens is produced in small batches to maintain ultra high quality levels in a HACCP and International Standards 9001 Certified facility in sunny Queensland, Australia.
How does the formula taste?
Probiotic Power Greens has a sweet pineapple flavour that is very mild and subtle. This makes it good enough to consume with just water, smoothies, topped on breakfast or even used for baking, making the product extremely versatile and user friendly.
Can I use this with other products?
Probiotic Power Greens has been designed to synergistically work with our Prebiotic Collagen Protein and Postbiotic Beauty Reds. That way, you can ensure your gut functions in perfect balance with a concentrated dose of prebiotic, probiotics and postbiotics. One thing to note here is that they should be consumed separately for taste preferences. You can get in touch with our Customer Service team if you have doubts on how to combine Probiotic Power Greens with other products.
Yes, this product is completely vegan-friendly.
What is the best time of day to take this product?
You can take our Prebiotic Power Greens at your preferred time of the day.
Can I use this supplement if I am pregnant or breastfeeding?
Although all of our products are natural supplements, we always recommend speaking with your healthcare professional beforehand. As we're not doctors, we're unable to make recommendations while trying to conceive, during pregnancy or while breastfeeding.
Can it be used by children?
While all of our products are made of natural ingredients, you should always consult with a healthcare professional before giving it to children under the age of 18.
Where should I store this product?
It's best to store this product in a cool, dry place to enjoy all its benefits.
Are there any side effects?
Our health supplements have been designed by experts who ensured every product is safe and gentle with your body. However, in very rare cases, some people experience unpredictable reactions. Please, always consult with your doctor if you experience any adverse effects or allergic reaction.
How long does the jar last?
Our jar has 24 dosages that can last up to a 1 month.
Why choose this product over others?
Our Probiotic Power Greens has been carefully designed by health specialists to nourish your gut and reduce sugar cravings while
promoting easier weight loss with no additives and no harmful side effects!
Medical Information and Product Disclaimer
FORMULATED SUPPLEMENTARY SPORTS FOOD: This product is not a sole source of nutrition and should be consumed with a healthy nutritious diet and appropriate physical or exercise program.

Warning: If you are pregnant, breastfeeding, taking medication or have a medical condition please consult with your healthcare professional before use. Not suitable for children under 15years of age. Store below 25°C and away from direct sunlight. Do not use if cap seal is broken.

This product comes with a 60-day guarantee that applies to the one jar- one month supply. Click here to know more.
Customers that bought Probiotic Power Greens are also buying: