Sold Out 4 Times in 2022:

Bloat Banisher™
Product Highlights
60-day money back guarantee.

Contains Enzymes featured on PubMed in 83,347 scientific studies. For more information on PubMed,

please click here

.

Contains 100% natural ingredients

96 plant-based capsules per jar

Free from Artificial Additives, Magnesium Stearate and GMOs

Produced in a certified facility in Sydney, Australia
Contains ingredients traditionally used in Western herbal medicine to Reduce Abdominal Bloating
Contains a blend of natural plant extracts traditionally used in Western herbal medicine to relieve flatulence, reduce symptoms of indigestion, and decrease mild gastrointestinal tract inflammation.
Supports healthy digestion
Contains a blend of natural plant extracts that aid in the digestion of fatty acids, triglycerides, sugar, carbohydrates, and lactose.
Contains ingredients traditionally used in Western herbal medicine to Soothe irritated tissues
Contains a blend of natural plant extracts, used in Western herbal medicine to reduce mild joint inflammation.
Natural Ingredients Featured In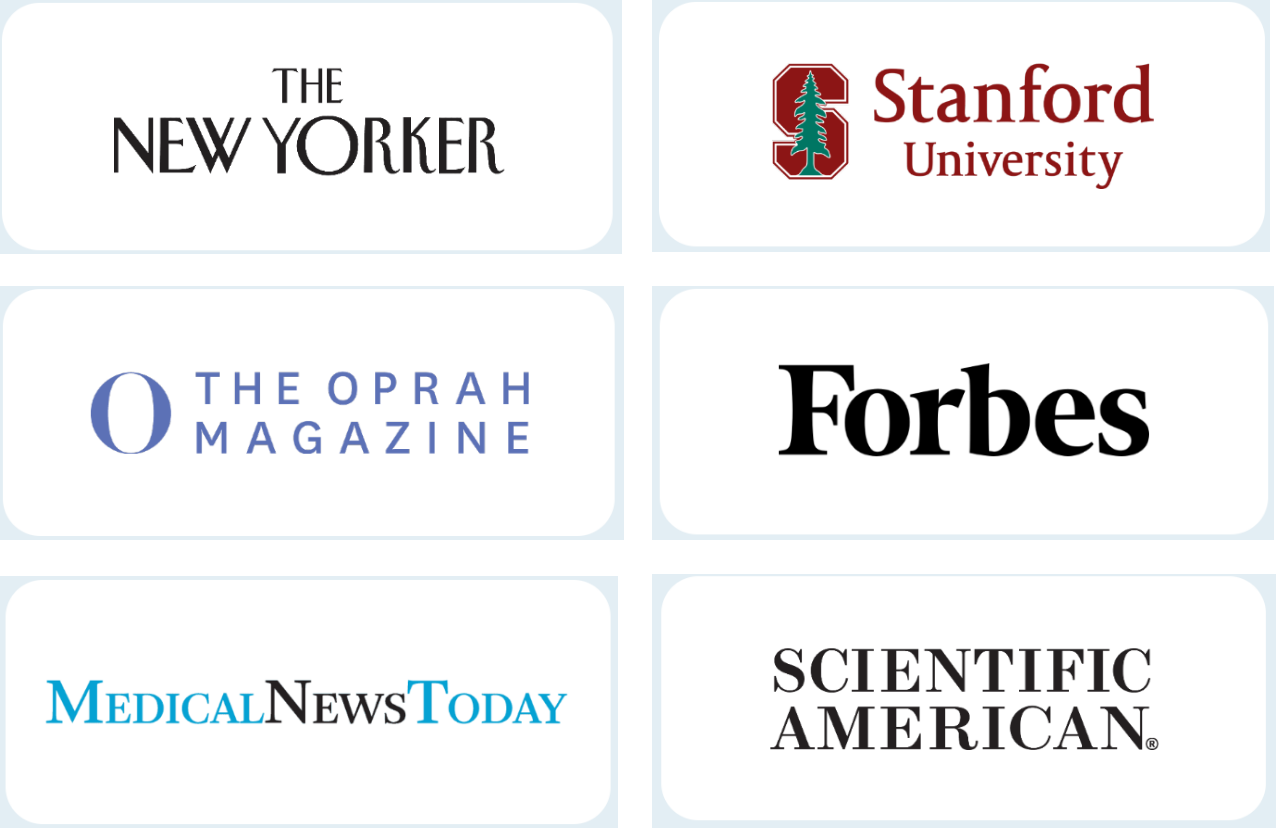 Before And After Stories Directly From Our Customers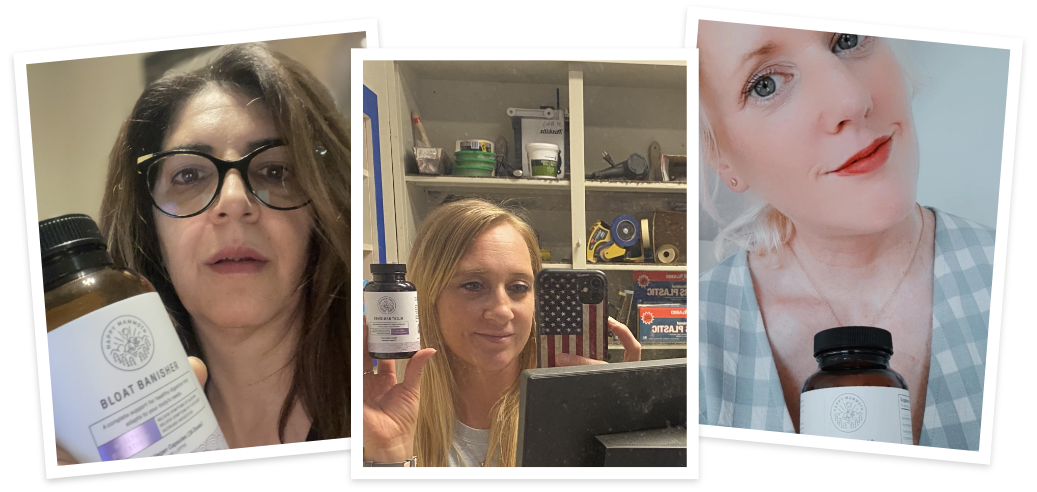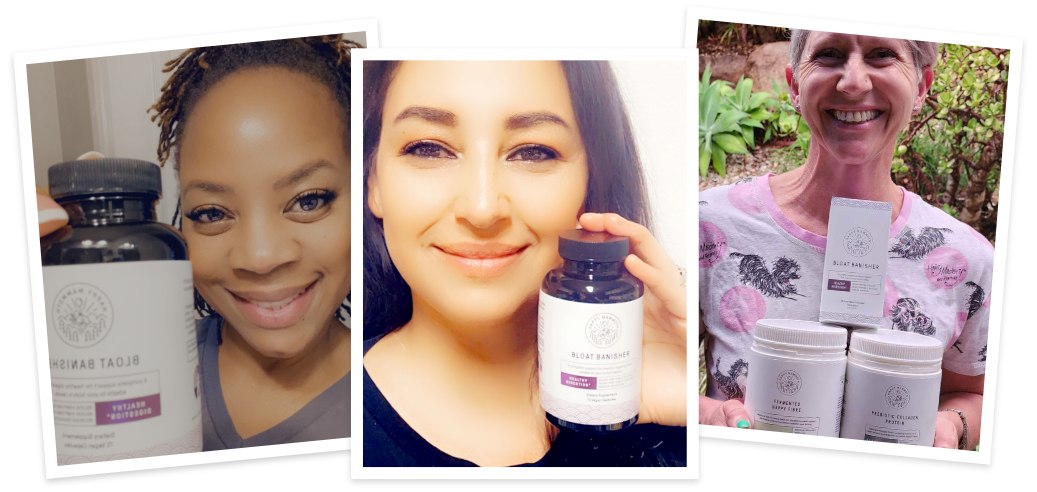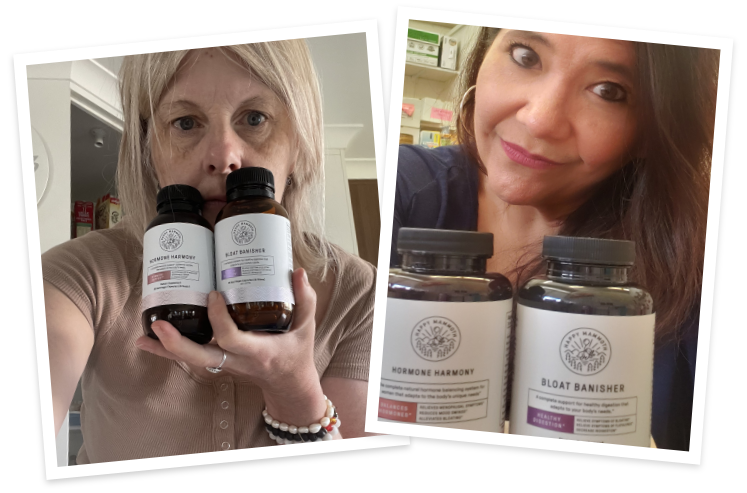 Bloat Banisher Contains 7 Specific "Superhero Enzymes"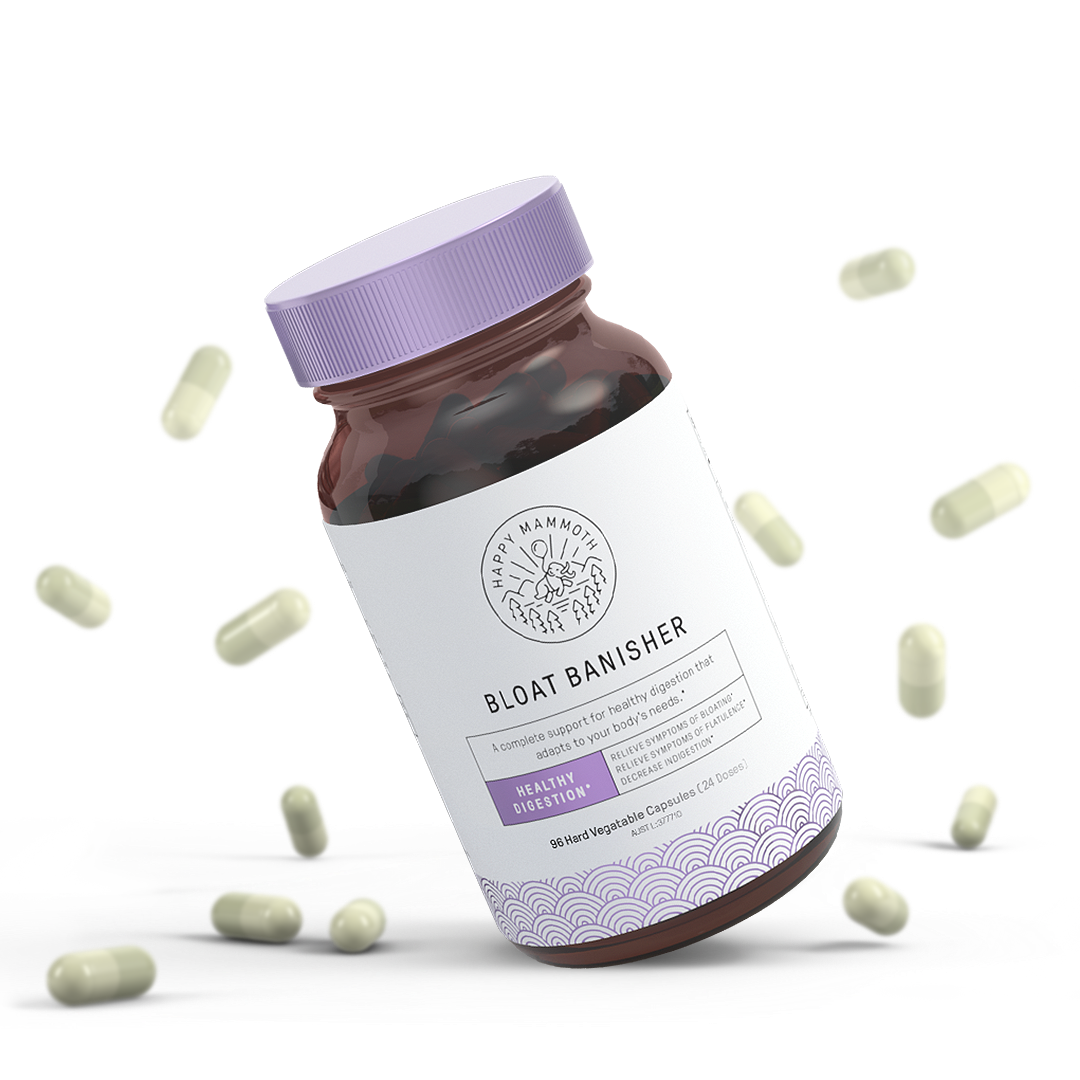 100% Natural Ingredients That Work Together Synergistically
Formulated for Women's Specific Health Issues
Correctly dosed for Fast and Long-Lasting Results
Customised Triple-Testing for Purity, Quality, and Accurate Dosage for Every Batch
Ingredients Validated by 83,347 Studies from PubMed


Created By Doctors and Experts With Degrees In Nutritional Science and Chemistry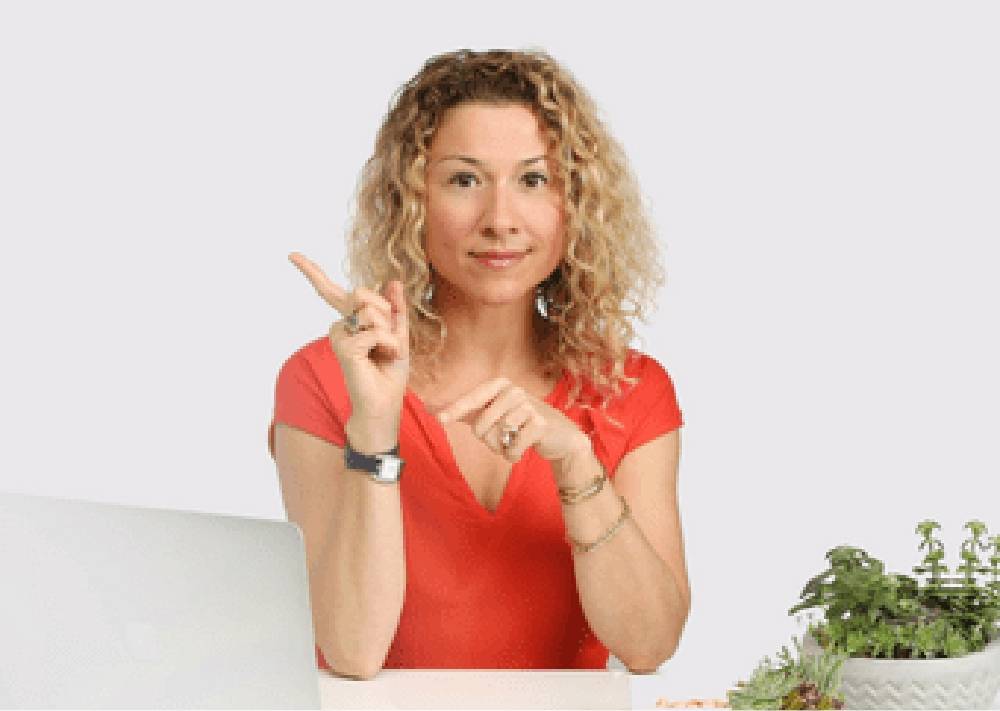 Aimée is a medical doctor from Santa Cruz, California, with 21 years of clinical experience. She specialises in natural treatments that target the roots of women's health problems.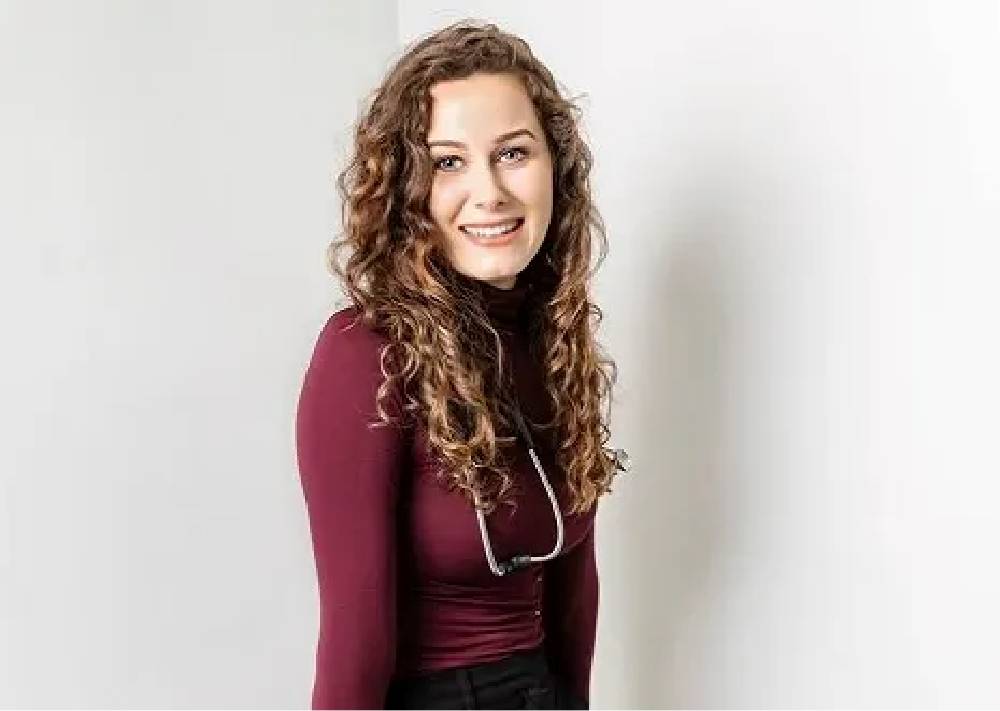 Annie is a licensed naturopathic doctor from Vancouver, Canada, with a passion for natural healthcare. Annie has extensive knowledge in women's health, natural medicine, and has developed an online coaching program "The Symptom-Free Period System."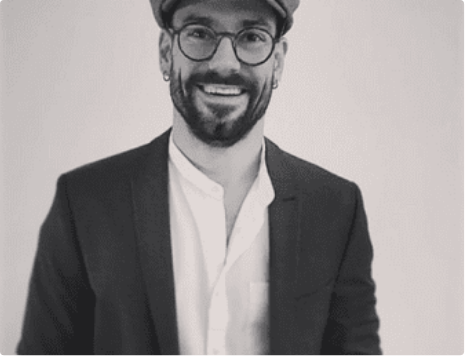 Chief Nutritional Scientist
Tobie comes from Germany where he graduated with a Master's Degree in Nutrition Science. Tobie creates our natural formulas with the "German precision" that sets us apart from other brands.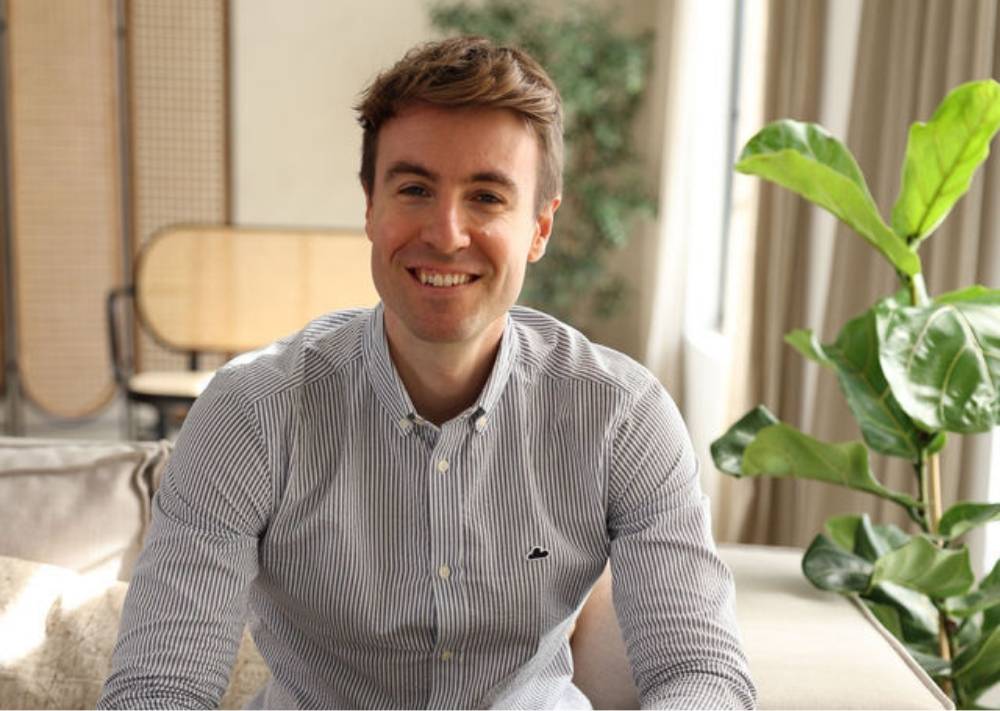 CEO, Health Researcher and Biohacker
As Happy Mammoth's gut health expert, he helped create Happy Mammoth's custom probiotic blend, carefully selecting strains that are scientifically proven to restore flawless gut function, regulate bowel movements, and maximise fat burning power.
* Easy To Understand Summarised Scientific Studies *
The Science Behind The Ingredients In Bloat Banisher

Amylase is traditionally used in Western herbal medicine to decrease abdominal bloating.

Bromelain is traditionally used in Western herbal medicine to reducemild joint swelling.

Marshmallow Root supports healthy digestion.

Fennel Seed is traditionally used in Western herbal medicine to relieve flatulence.

Papin is traditionally used in Western herbal medicine to help decrease mild gastrointestinal tract inflammation.

Protease and Tilactase aid in the digestion of lactose.

Curcumin is traditionally used in Western herbal medicine to soothe irritated tissues.

Cellulase assists in the digestion of plant-based meals.

Chamomile is traditionally used in Western herbal medicine to relieve symptoms of indigestion.

Lipase assists in digestion of fatty acids and carbohydrates.
Bloat Banisher Compared To Mass Marketing, One Dimensional Bloat Relief Products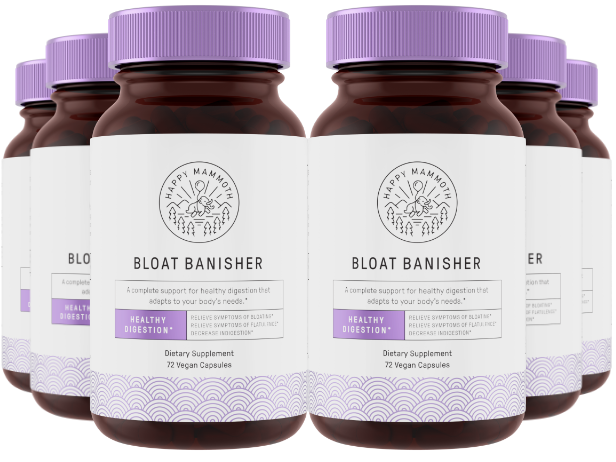 New All-Natural
Bloat Banisher
100% Natural ingredients that are backed by 83,347 scientific studies
Adapts to the unique needs of your body


Aids in digestion of fats, sugars, and carbs
Ingredient dosed according to scientific studies
Supports healthy digestion


No sugar or artificial ingredients


No fillers, stearates, coatings, dyes, GMOs, gluten, dairy, heavy metals, or other junk
Triple-tested for quality, purity, and accurate dosage every single batch
Packed by hand in a pristine, certified Australian lab in Sydney
Backed by a 60-Day Money Back Guarantee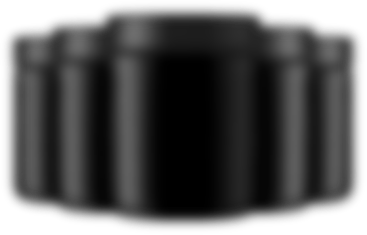 Some Other Inferior
One Dimensional Products
Not a system - ingredients cannibalise one another
Chemical and synthetic ingredients that work against the needs of the body
Treats symptoms… Doesn't get to the root cause
Ingredients not backed by research studies
May contain toxic fillers your body cannot handle
May contain sugar or unnatural ingredients
May contain GMOs, soy or corn



Ingredients not dosed at incorrect amounts
May not be handled in a pristine, Australian lab
No guarantee provided if it doesn't provide results
Pioneering World-Leading Quality Standards & Testing
Know with absolute confidence that Bloat Banisher is free from the established 69 known gut irritants.
Know with absolute confidence all ingredients have been examined for Heavy Metals using world class testing methods.
Free from artificial fillers, preservatives, artificial sweeteners, binding agents and other additives your body doesn't need...
Frequently Asked Questions
How do I use this product?
Take 4 capsules once daily with a small glass of water or as directed by your healthcare practitioner
What are the ingredients in this formula?
All these natural extracts were carefully selected and dosed at clinically-proven amounts:
✅ Marshmallow Root [100mg]
✅ Red Algae Marine [62.5mg]
✅Chamomile Flower Extract [46.875mg]
✅ Lemon Balm Extract [50mg]
✅ Tumeric Root Extract [25mg]
✅ Liquorice Root Extract [12.5mg]
✅ Fennel Seed Extract [125mg]
Where is the formula produced?

Bloat Banisher is produced in small batches to maintain ultra high quality levels in a TGA Certified facility in Australia.
How does the formula taste?
The ingredients are tightly encapsulated in small plant-based capsules, so you won't feel any strong taste or flavour.
Can I use this with other products?
Bloat Banisher pairs perfectly with Prebiotic Collagen Protein Together they work to maintain healthy digestion.
You can take both of these formulas together for maximum benefits.

Yes, Bloat Banisher is completely vegan-friendly.
What is the best time of day to take this product?
Bloat Banisher is best taken before a large, filling meal.
Can I use this supplement if I am pregnant or breastfeeding?
No, do not use this supplement while breastfeeding. Do not use this supplement if you are pregnant or likely to become pregnant.
Can it be used by children?
While all of our products are made of natural ingredients, you should always
consult with a healthcare professional before giving it to children under the age of 18. Use in children under 12 years is not recommended.
Where should I store this product?
It's best to store this product in a cool, dry place to enjoy all its benefits.
Are there any side effects?
Our health supplements have been designed by experts. In very rare cases, some people experience adverse reactions. Please, always consult with your doctor if you experience any adverse effects or allergic reaction.
How long does the jar last?
The jar contains 96 capsules and will last depending on usage.
Why choose this product over others?
Our Bloat Banisher has been carefully designed by health specialists to support healthy digestion for women of all ages.
Medical information, product reviews, warnings and legal disclaimers Product legal disclaimer
At Happy Mammoth, we have NO compromise when it comes to quality, safety and transparency. That's why we check that the information on our website is valid, accurate and substantiated by scientific research and clinical evidence. We avoid statements on our website that are misleading or exaggerate efficacy or performance.
To ensure the integrity of testimonials appearing on our website, we also:
- check that the person providing any testimonial is a customer and has used the good for its intended purpose
- check that the person has no connection or involvement with Happy Mammoth, including any production, sale, supply or marketing of our products.
- do not give any inducement or direction in how the testimonial is written or published (other than to ensure the integrity of Happy Mammoth and our website, including consistency with the intended use of our products or our instructions for use).
Despite our efforts, please note that:
- testimonials are based on personal experiences only and do not necessarily represent what anyone else using the same product may experience - your individual results may vary.
- we are not responsible for any errors or any use of information on our website, including testimonials
- you should also not treat any information on our website as medical advice or as statements evaluated by the Food and Drug Administration, the Therapeutic Goods Administration or any other regulatory authority
- you should not regard our products as being intended to diagnose, treat, cure or prevent any disease.
If you are or you believe you are suffering from any medical condition, please seek advice from a qualified healthcare professional regarding your treatment before taking any of our products. If you notice any unexpected change to any aspect of your health, please seek help from a qualified healthcare professional immediately.
If you believe that any of our communications can be confusing or biased, feel free to contact us via email: support@happymammoth.co
Use in children under 12 years is not recommended.

Do not use if pregnant or likely to become pregnant.
Do not use while breastfeeding.