Product Highlights
40,289+ Australians use Prebiotic Collagen daily
Delicious natural salted caramel flavour
60 day money back guarantee*
15g serving size — 1 month supply per jar
Prebiotic Collagen Protein (Salted Caramel - Limited Edition)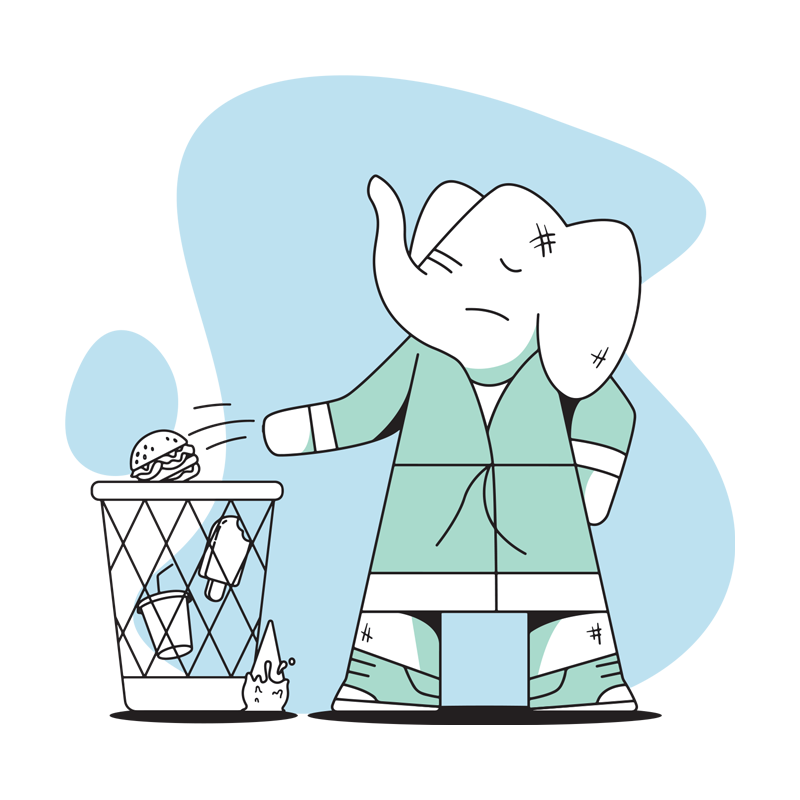 Promotes Immediate Digestive Comfort
Prebiotic Collagen helps eliminate bloating, gas and associated cramping that may occur after meals or after eating foods that can be difficult to tolerate.
Helps Restore Gut Lining Integrity
Collagen peptides act like a natural glue for the gut lining, promoting regularity and detoxification by sealing cracks that may cause long-lasting digestive issues.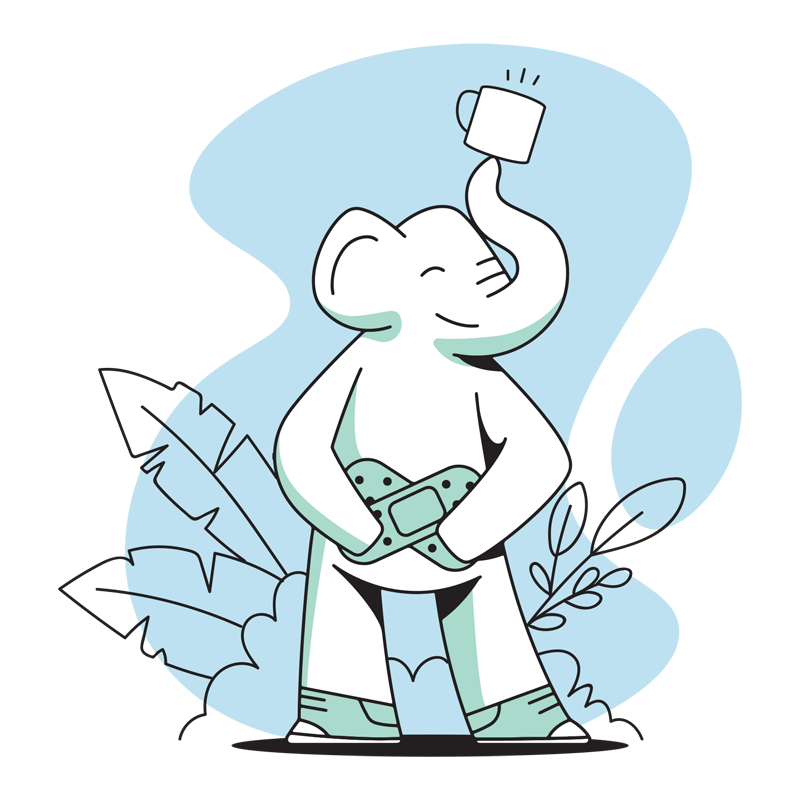 Supports Healthy Weight Loss
Prebiotics are shown to reduce sugar cravings and maintain satiety for longer after meals, which can prevent overeating and snacking between meals.
Before and After Stories Directly From Our Customers
The Health Benefits of The ingredients in Prebiotic Collagen Protein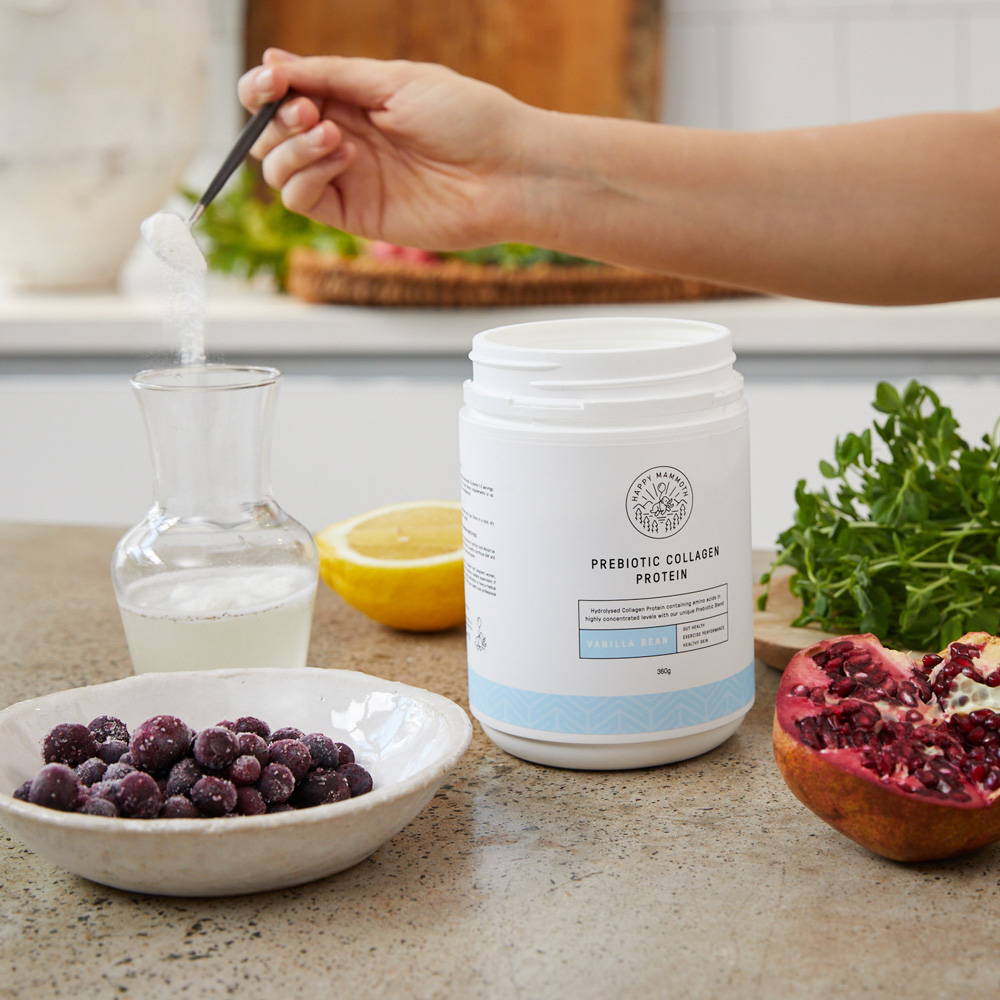 What It Does and How It Does It
The 2-phase natural formula is developed to adapt to the unique needs of each digestive tract and gut microbiota.
This way, it can help provide immediate relief from digestive discomfort while also working on restoring gut integrity for long-lasting results.
Our Hydrolyzed Collagen Protein is highly bioactive, containing over 90% of pure protein which is easier to digest than other protein types such as plant-proteins and inflammatory whey protein.
The high level of glycine and other essential amino acids help strengthen the gut lining by sealing cracks and leaks, plus it enhances energy production while reducing fat storage.
Complete Digestive Repair
Our Organic Prebiotic Blend supports the digestive system and overall health by populating the gut with carefully-selected good bacteria that can keep harmful bacteria and yeast from overgrowing.
This helps eliminate bloating, gas, pains and other digestive discomforts by improving digestion and nutrient absorption, while also promoting healthy and steady weight loss.
Prebiotic Collagen Protein is produced in small batches to maintain ultra high-quality levels in a HACCP and International Standards 9001 Certified facility in sunny Queensland, Australia.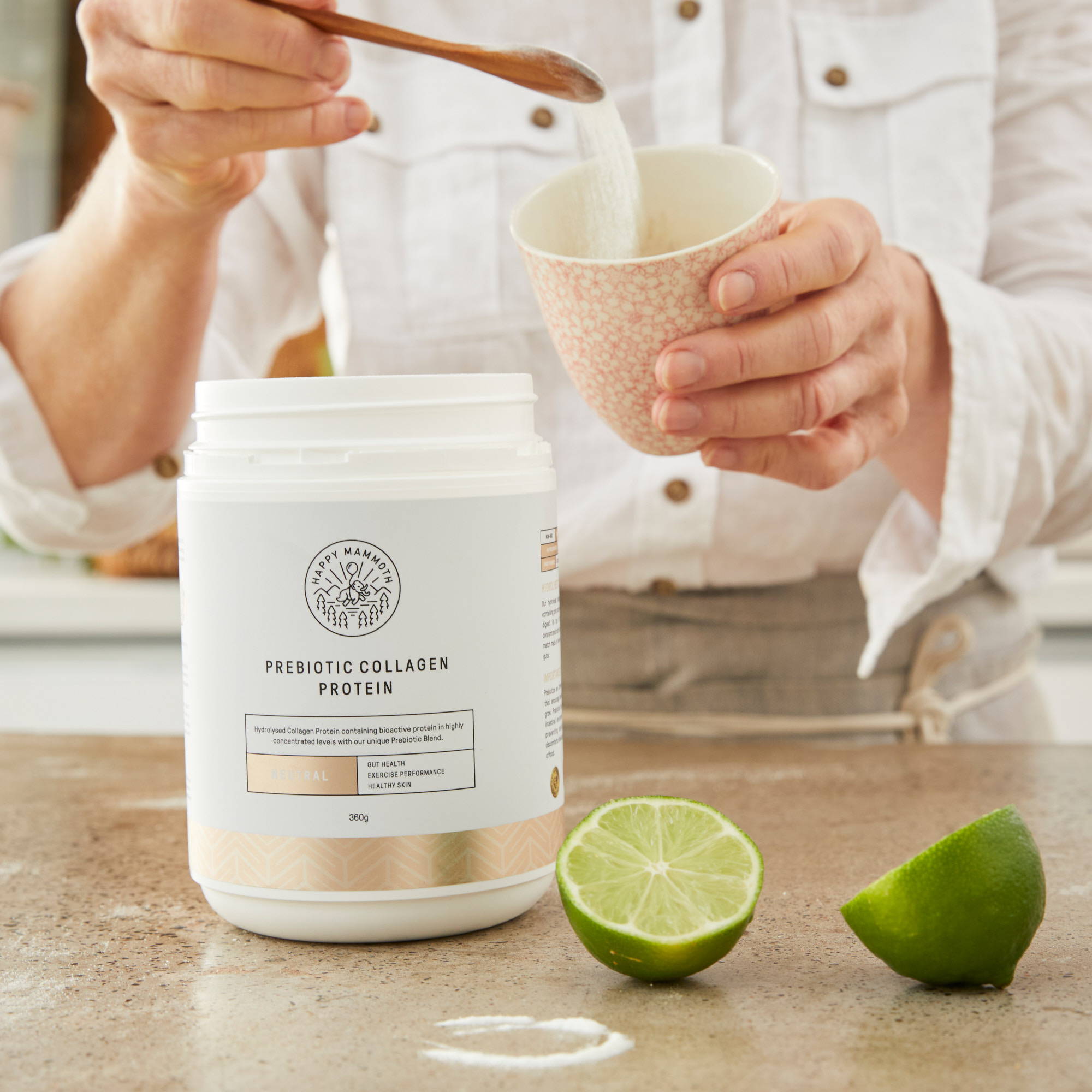 * Easy to understand summarised scientific studies *
The Science Behind The Ingredients Prebiotic Collagen Protein
Collagen is 36% more filling than other proteins, which can reduce sugar cravings, snacking and overeating.
Prebiotics are proven to reduce stress and improve mood via the gut-brain axis by populating the gut with good bacteria.
Collagen protein strengthens the gut lining, promoting the absorption of nutrients and supporting better health.
Prebiotics also promote a well-functioning immune system and help the body stay protected throughout the seasons.
Collagen is known for making skin smoother and nails stronger. It also helps joints, bones, and muscles maintain structure.
Prebiotics can help with weight loss by turning dietary intake into energy instead of promoting storage in the form of fat.
Collagen peptides are shown to seal leaks and cracks in the gut lining, promoting detoxification and regular bowel movements.
Prebiotics help power good bacteria while crowding out the bad ones, reducing symptoms associated with yeast overgrowth.
Pioneering World-Leading Quality Standards & Testing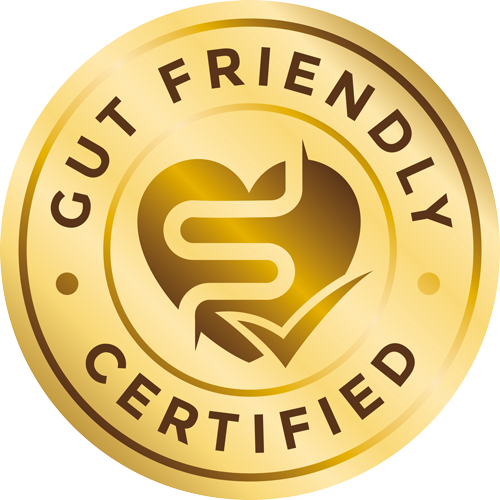 ---
Know with absolute confidence that Deep Sleep Mode is free from the established 69 known gut irritants.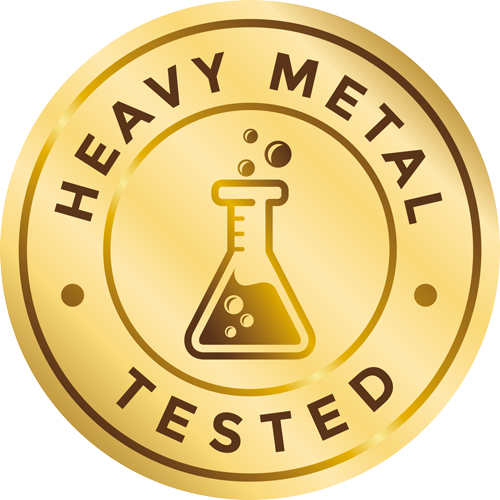 ---
Know with absolute confidence all ingredients have been examined for Heavy Metals using world class testing methods.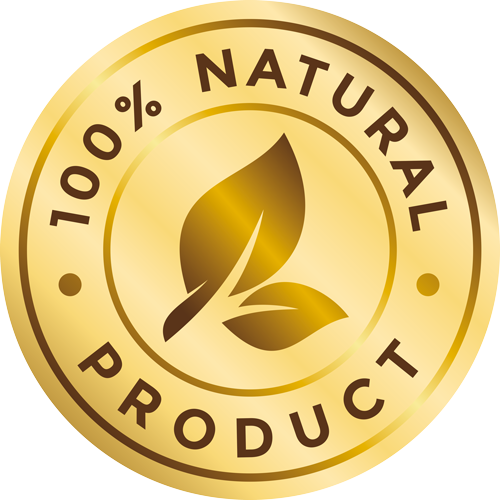 ---
Free from artificial fillers, preservatives, artificial sweeteners, binding agents and other additives your body doesn't need...
Frequently Asked Questions
Our Collagen is sourced from grass-fed cows and is therefore, not vegan-friendly. Excluding Deep Sleep Mode, Bone Broth and Prebiotic Collagen Protein, all the rest of our products are vegan-friendly. If you want a vegan Collagen builder, we suggest checking out our Postbiotic Beauty Reds...
How do I use this product?
We recommend having one or two scoops on a daily basis, depending on your dietary requirements and lifestyle. Prebiotic Collagen Protein is stable in all cold liquids. You can simply mix it into a tall glass of water (200ml-300ml), coconut, almond/macadamia milk or your smoothie.
Can I use this with other products?
Ideally, it should be used as part of The Complete Gut Synergy System for maximum gut-healing results.
The Complete Gut Synergy System is the most complete gut-healing solution we've ever put together. It was developed to create total synergy in the gut lining, digestive tract and microbiota with our unique blends of Prebiotics, Probiotics and recently-discovered Postbiotics…
How to use it as part of this system: We recommend consuming the 15g (one scoop) of Prebiotic Collagen Protein and 10g (one scoop) of Postbiotic Beauty Reds together with or after breakfast. We then recommend taking 10g (one scoop) of the Probiotic Power Greens after lunch for a gentle and sustained energy kick to power you through the afternoon.
What are the ingredients?
Prebiotic Collagen Protein (Salted Caramel Flavour) contains: Hydrolyzed Collagen Peptides, Organic Chicory Root, Natural Caramel Flavour, Organic Sprouted and Fermented Golden Pea Fibre, Natural Stevia-Leaf Extract and Salt
All the ingredients were carefully selected for their high levels of bioavailable amino acids, fibres, and prebiotics.
Where is the formula produced?
Prebiotic Collagen Protein is produced in small batches to maintain ultra high-quality levels in a HACCP and International Standards 9001 Certified facility in sunny Queensland, Australia.
Prebiotic Collagen Protein comes in 3 unique flavours, natural vanilla bean, salted caramel and neutral (unflavoured). The flavours aren't too sweet, so they blend perfectly with any food or drink without altering their flavour. This makes it good enough to consume in a glass of plain water, with smoothies, topped on breakfast, or even mixed with yoghurt.
Customers that bought Prebiotic Collagen Protein (Salted Caramel - Limited Edition) are also buying: